A Message From Our President
What an interesting few months it's been since we last communicated to the members and friends of APOS. It's clear that the months ahead will continue to challenge each and every one of us.
As part of the planning process for the APOS annual meeting, we surveyed our members and past conference attendees to gauge comfort levels and preferences for an in-person or virtual meeting in 2021. Thank you to those of you who participated in the survey and offered candid and sincere feedback. As always, keeping our members, conference attendees and their families and patients safe is our top priority. Your voice is integral to our decision making.
We are excited to officially announce that APOS is going virtual in 2021! Save the date for the real-time virtual conference, March 10-12, 2021. We have begun to build a timely, innovative, and informative virtual experience that will take place in real time and provide plenty of opportunities for interaction. Stay tuned for further information. And, please stay safe and be well!
Sincerely,
Kristine Donovan, PhD, MBA
APOS President
Important Conference Information:
#APOS2021 Virtual Conference registration is OPEN!   We are excited to bring you an amazing virtual experience in the new year.

---
Call for Proposals – Guidelines HERE
Submissions & Important Deadlines
Late-Breaking Poster Submissions  Open Monday, December 14th – Monday, January 25th
---
Sponsorship Opportunities:

Introducing new engaging opportunities: 
Health Equity Sponsorship,
Early Career Sponsorship
& so much more!

Across all objectives, priority areas include research, practice, training, and advocacy endeavors that support equity in psychosocial oncology as related to age, race, ethnicity, religion, culture, language, disability, socioeconomic status, sexual orientation, gender identity and/or expression.
Learning Objectives
Define research, practice, and training priorities for the field of psychosocial oncology that reflect advancement and innovation in cancer care, with a special interest in implementation science efforts to enhance reach and impact.
Demonstrate how psychosocial oncology researchers, practitioners, advocates and policy makers leverage principles of innovation and its associated tools to advance the field – including (but not limited to) technology, data-driven metrics, emerging care delivery models, multi-disciplinary training programs.
Present evidence of the impact of psychosocial oncology to overall cancer care using metrics that may include cost-effectiveness, medical outcomes, psychosocial outcomes, patient and community satisfaction, provider satisfaction, and training outcomes.
Describe innovative models of psychosocial oncology care delivery that promote integration and adoption of scientific, evidence-based findings into clinical practice, training programs, and policy.
---
Join us for new activities during the #APOS2021 Virtual Conference!  #APOSTogetherWhileApart
Registration will open for these events in early 2021…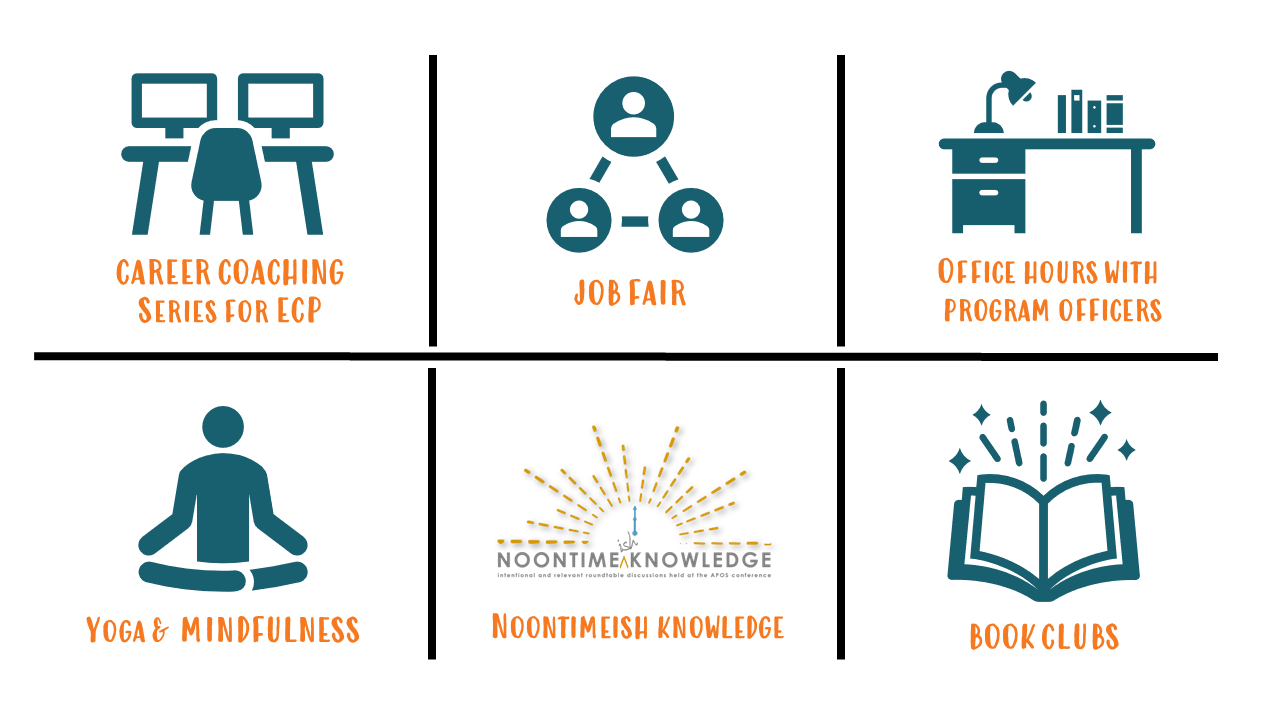 ---
Should you have a disability and need special accommodations, please contact the APOS Executive Office at
info@apos-society.org
or 615.432.0090