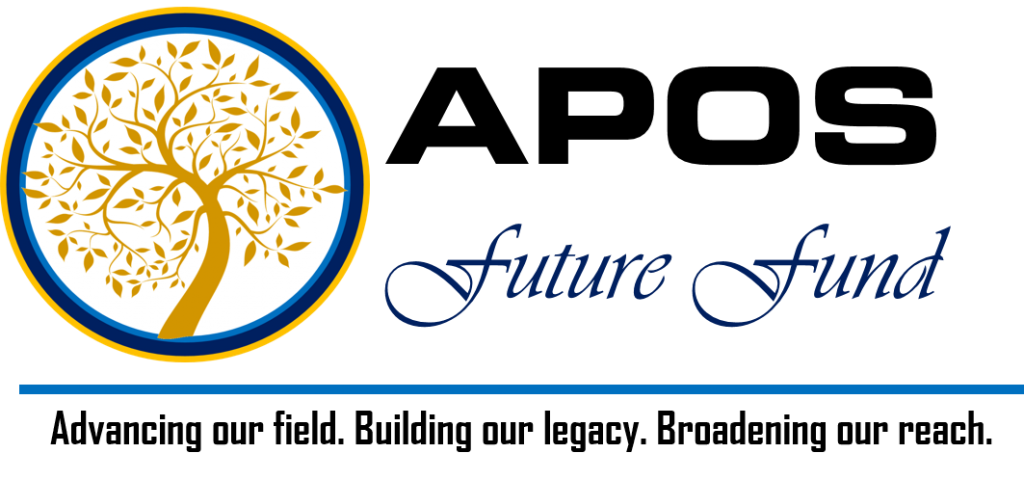 Make a Donation About the Fund Thank You Donors!
The APOS Future Fund is designed to help psychosocial oncology broaden our reach toward the future.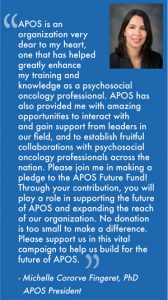 The Future Fund has been established to enhance our ability to create vital and dynamic resources for psychosocial oncology professionals. As an
organization APOS is firmly committed to providing greater access to current and constantly evolving interactive content and expertise in the field of psychosocial oncology. This includes a specific focus on enhancing and developing new educational offerings to facilitate training and continued education of psychosocial oncology professionals across a broad range of disciplines. We also remain focused on enhancing member benefits related to these professional activities.
How will the Future Fund help APOS broaden its reach? Funding from the Future Fund will allow APOS to
Develop a Core Curriculum professional education program integrating latest advancements in psychosocial research and clinical care standards.
Expand online training activities via interactive webinars designed for multidisciplinary professionals
Enhance member benefits to better support professional development for members-in-training, new members and established professionals
Support members in their professional goals with additional mentoring opportunities and conference activities
In 2016, APOS designated $5,000 from gifts made to the APOS Future Fund to the Virginia McCorkle Scholarship, to help students and early career professionals participate in APOS' annual conference. Our goal was to offer one promising student, one early career clinician, and one new investigator enough Virginia McCorkle Scholarship funding to cover airfare and accommodation to participate in the 2016 APOS annual meeting.
About APOS
America is at a crossroads for providing psychosocial care to people affected by cancer.
Fueled by the Institute of Medicine and American College of Surgeons Commission on Cancer, there are mandates to address the psychosocial needs of patients as part of routine cancer care. The American Psychosocial Oncology Society (APOS) is the sole professional organization in the United States that supports and promotes multidisciplinary work in psychosocial oncology. At the heart of our organization is a mission to advance the science and practice of psychosocial care for all people affected by cancer.
APOS is the national leader in bringing together a broad range of healthcare professionals who deliver high quality patient care and conduct state-of-the-art research on the psychological, social, behavioral and spiritual aspects of cancer.
APOS dedicates extensive resources to professional education and training in psychosocial care delivery and to dissemination of research findings. The work of our organization is linked to current national efforts to promote quality standards for the psychosocial care of cancer patients and their families.